D4-2U Discovery 4 Dual Battery Kit  
Description
There are no other types of Discovery 4 Dual Battery kits that offer anywhere near the operating and charging advantages that our D4 kits achieve.

Our Discovery 4 kit will allow you to recharge batteries at up to 6X faster than a DC/DC device
NOTE you do not require any form of electrical experience to fit this kit and you only need basic handyman skills and some basic tools to install this kit.
The D4-2U is a combination of the High Current version of the Cranking Battery to Auxiliary Battery Plug-N-Play kit, plus the Power Socket Extension kit. Both are specifically produced for a Discovery 3 and early model Range Rover Sports. This kit has the USI-160 isolator for protecting the Cranking Battery, and it also includes the ABG-25 isolator, our Low Voltage Cut-Out Unit, for protecting the Auxiliary battery from being accidentally over discharged.
So D4-2U kit not only protects the Cranking Battery, it also independently protects the Auxiliary Battery.
This kit sets up a dual battery system under the bonnet and provides power for a new power socket in the rear cargo area and rewires the existing Land Rover Power Socket to be power from the Auxiliary Battery as well.
Because of the unique way the USI-160 ( in SHARED Mode )  operates, you will have a total 90Ah to 100Ah of usable accessories power available, and with any other type of isolator, you will need to fit a 120Ah auxiliary battery in the rear cargo area to achieve the same amount of useable accessories capacity.
So this kit will save you money, weight and space over any other D3 dual battery set up.
CLICK HERE to see full details of how the USI-160 operates and it's unique features, on the USI-160 page.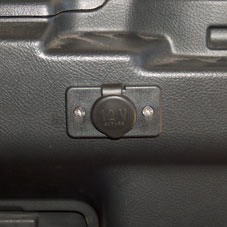 The D3-BU kit includes the USI-160 isolator and Heavy Duty Cables, ABG-25 isolator, Genuine Land Rover Battery Bracket and Hold Down Bolts, Set of Battery Terminal Clamps, Auxiliary Battery Earth Cable, Circuit Breaker and Power Cable to the rear cargo area, the ABG-24 Isolator, a Power Socket and all necessary Hardware to complete the installation. All you need is the Optima D34 Yellow Top Auxiliary Battery.
All cabling has been cut to the correct lengths and all terminals have been pre-assembled including Heat Shrink and Split Tube protection, so there is no need for any special tools when fitting one of these kits.
The kit has extensive installation and operating instruction, which include numerous photos to assist in making the installation easy for DIYers.
You only need some basic Handyman Tools to complete the installation.
This kit takes about 3 hours to fit. You only need to cut one hole,  in the rear cargo area, to mount the new Power Socket. Everything is assembled and ready to install and the price includes Australia Wide Postage.
CLICK HERE to see full details of how the ABG-25 operates, on the ABG-25 page.

SOLAR and BATTERY CHARGER Connections.
Again, with the unique way the USI-160 operates in the SHARED Mode, you can connect solar panels ( via a solar regulator ) or a battery charger to either battery in a USI-160 dual battery set up and all batteries will recharged.
If you have a specific need to only charge your Auxiliary Battery, then by selecting IGNITION Mode and connecting the solar panels or battery charger to the Auxiliary Battery, you will be able to charge it, while the Cranking battery remains isolated.
All our isolators are supplied with a 5 year Parts and Labour warranty and a Lifetime Repair Guarantee.
Please note, this kit is NOT suitable for most models of the Discovery 4 ( & late model RRS ) outside Australia, where there can be either a Fuel Heater or Air Intake fitted in the space just in front of the Craning Battery Compartment. The range of Discovery 3 kits will fit a D4, with some rearranging of the components in the D4's Auxiliary Battery compartment.
Reviews